🚚 Express Shipping
🌱 Made With Natural Ingredients
👨‍👩‍👧 Trusted By 5000+ Parents
Regular price
Sale price
Rs. 550.00
Unit price
per
Sale
Sold out
Raw Banana Powder is a natural powder made from the finest quality of "Kerala's Nendran Bananas". Raw Banana Powder is versatile in nature due to its nutritional benefits and multiple usages. 
Healthy & Nourishing: Raw Nendran Banana Powder works as a Prebiotics and it is a great source of Potassium, Magnesium, Vitamin B6, Dietary Fiber, and Calcium. Unripe Banana contains less sugar and does not cause cold or cough. Traditionally Raw Banana is known to be helpful during ulcers, diarrhea & digestive disorder.
No Harmful Ingredients: No Added Sugar, No Preservatives, No Artificial Flavours or Colours, No Milk Solids/Powder, No Synthetic Vitamins, No Added Chemicals
Ingredients: Raw Nendran Banana
Allergen Info: Allergen free. (Product is processed in a manufacturing unit where wheat & gluten-containing products are processed.)
Cooking Instructions: 
Porridge: (1) Add 2-3 tbsp (~20g-25g) Raw Banana Powder in a 3/4 cup (200ml) of water & mix well without lumps. (2) Cook on a low flame for 5 to 8 minutes & stir continuously till you get the semi-solid consistency. (3) To sweeten the taste, add Jaggery/Honey and mix well & serve. [optional: use milk instead of water if cow milk is already introduced to little one]
Instant Drink: (1) Take 3/4 cup (200ml) milk & cook on a medium flame. Add jaggery/sugar (as per taste) and allow it to boil. (2) Add 1-2 tbsp (~20g-25g) Raw Banana Powder in piping hot milk. Mix well without lumps. (3) Sieve and transfer in a mug and serve lukewarm.
Smoothie: (1) Take 1/2 cup (120ml) milk & add 1-2 tbsp (~25g) Raw Banana Powder to it and mix well without lumps. (2) Cook it on a medium flame and stir well till you get semi-solid consistency (don't let lumps form). Keep it aside & allow it to cool down. (3) Add 1/2 cup (120ml) milk (cold/normal as per choice), 1-2 tbsp Honey, 3-4 almonds and blend the mixture in a blender. (4) Transfer to a mug and serve.
Other Applications: (1) Use as a Gluten-free Flour to make Roti/Parotha, etc, (2) Use it in Baking to make cookies/cakes, etc, (3) Use it as Thickening in soups/shakes, etc.
Storage & Shelf-life: Best before 12 months from the date of manufacturing. Once you open the pack, immediately transfer it into a clean, dry, airtight container. Keep it safe from direct sunlight & moisture and store it in a cool dry place. Since we do not add preservatives, please use it within one month or the expiry date whichever is earlier after opening the pack.
___________________________________________________________________________________________
MRP: INR 550.00 (inclusive of all taxes)
Net Quantity: Raw Banana Powder 400g (200g * 2 Packs)
Expiry Date: Raw Banana Powder - 12 Months (From the date of manufacturing)
Brand Owned & Marketed By: Nutribud Foods Private Limited
108 Abhirath Complex, Naranpura, Ahmedabad-380014
Manufactured By: 
Kalans Food (Nellayi PO, Thrissur, Kerala 680305)
Country of Origin: India
Share
View full details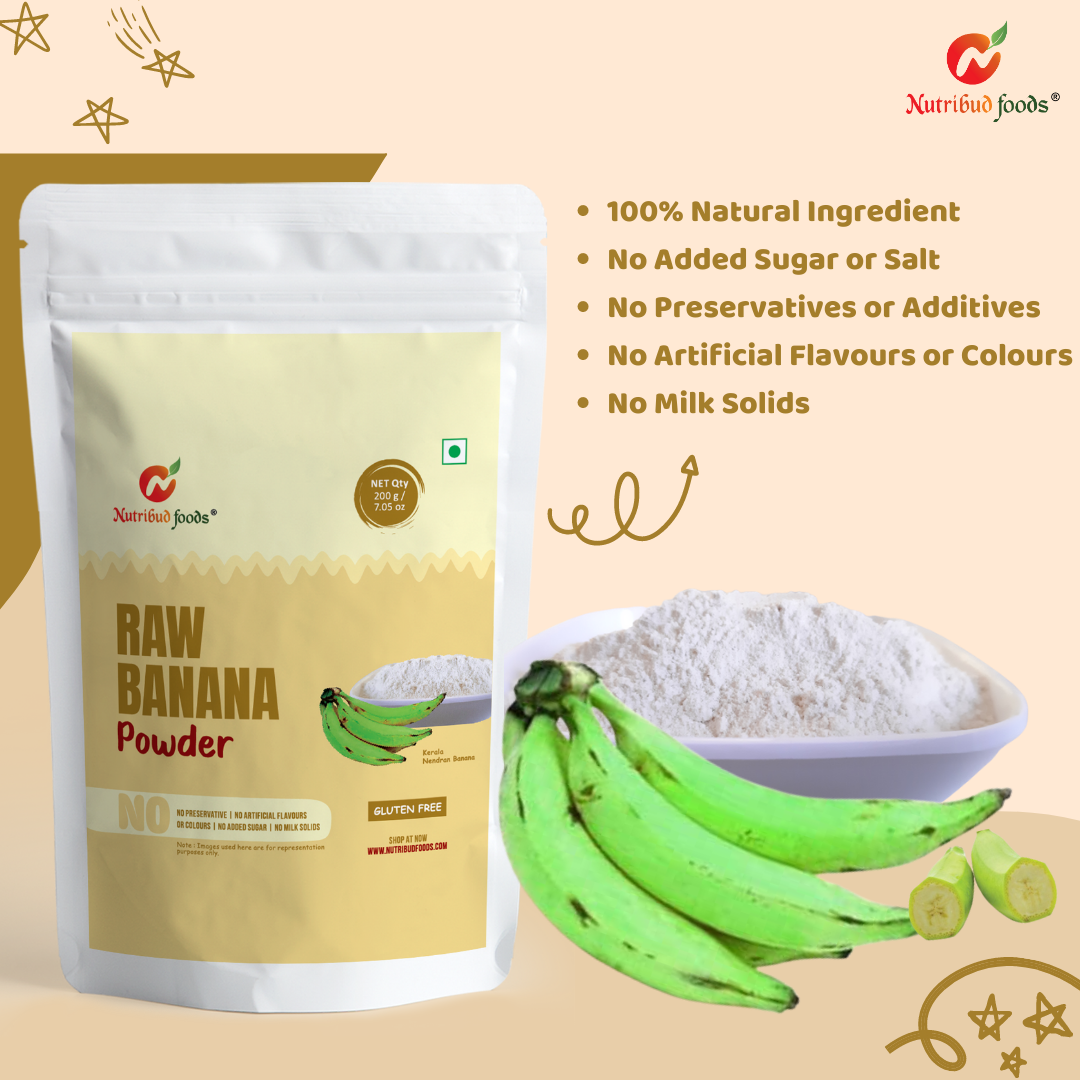 Secured Payment & PAN India Delivery!
Once we receive your order, we make sure it is packed & dispatched within 24hrs (& 48hrs in the case of holidays). Most orders are delivered within 5 to 7 working days by our courier partners.